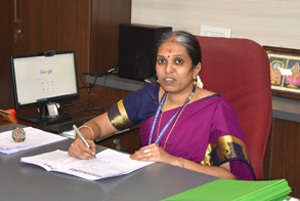 Dr.S. KALYANI
Professor & Controller of Examinations
UNJHA V. Dhanasamy D. Parimala Devi Examination Cell has been established in the month of January 2021 since the conferment of Autonomous Status to the Institution. The office of the Dean (Examinations) shall be responsible for assessing continuous learning process of the students by maintaining best quality and standard in examination process and ensuring the confidentiality.
Vision
To adopt well defined polices in the conduct of examination and attain potential of excellence incorporating automation in the system.
Organization Structure
Examination System
Examination Cell - Team

Dr.R. BASKARAN
Deputy Controller of Examinations


Dr.K.SAKTHIRAJ
Additional Deputy Controller of Examinations


Mr.S. Alwyn Rajiv
AP/ECE


Mr.S. JEGAN
AP/EEE


Mr.B.K. PARRTHIPAN
AP/Mech


Mr.S.MUTHU NATARAJAN
AP/Mech


Mr.R.Ganesh
AP/Civil